There's no greater feeling than finding the one you love and committing to a lifetime together. It's a momentous occasion that should be celebrated in a meaningful and special way. That's where Graham Brothers Jewelers comes in – offering an array of beautiful and timeless pieces to help you mark the occasion in style.
Graham Brothers knows how to help you celebrate love with stunning pieces that will be treasured for generations. Whether you're searching for a classic engagement ring or a unique wedding band, their extensive selection has something for everyone. And if you're in the market for something truly special, Graham Brothers also offers lab-grown diamond jewelry, known for their stunning quality and sustainability. 
When it comes to engagement rings, Graham Brothers Jewelers offers a wide variety of options to match your partner's style and personality. From classic diamond solitaires to unique-colored gemstones, they have it all. What's more, they offer custom designs to allow you to create a one-of-a-kind piece that reflects your love story.
Aside from engagement and wedding rings, Graham Brothers Jewelers features a stunning collection of fine jewelry that makes for lovely wedding day gifts for bridesmaids, mothers of the bride, and even the bride herself. From diamond earrings to necklaces, bracelets, and pendants, you can ensure your loved ones will light up when they see the lovely pieces from Graham Brothers Jewelers.
As Amarillo's go-to jeweler, we believe in the importance of commitment – and that commitment means keeping your jewelry looking and feeling just as special as the day you first laid eyes on it. Plus, with our wide range of lab-grown diamonds, including stunning engagement rings, you can be sure that your jewelry is responsibly sourced and environmentally friendly.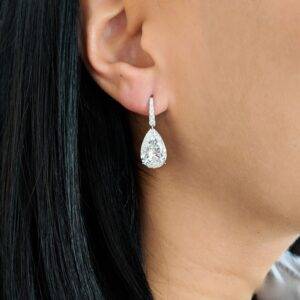 There are few moments in life as important as finding the one you love and committing to a lifetime together. And when it comes to celebrating that milestone, there's no better way to do it than with exquisite, timeless pieces from Graham Brothers Jewelers. They'll help you find the perfect piece to symbolize your love and keep your treasured memories alive for generations to come. Visit Graham Brothers Jewelers in Amarillo, Texas today for a special experience you'll never forget.